Paediatric dentistry in Lucerne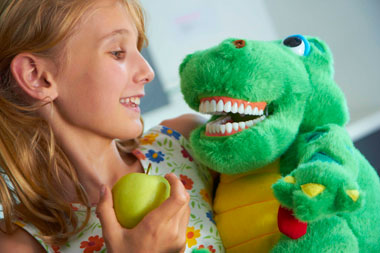 Why paediatric dentistry?
Children have had their own specialist physicians - paediatricians - for ages; in dentistry, there is now also an expert for children's teeth: the paediatric dentist, also known as paedodontist.
Because a milk tooth is not merely a smaller version of an adult tooth, maintenance of milk teeth is extremely important for the correct development of the adult set of teeth; wrong treatment or their premature loss can lead to tooth and jaw problems with life-long consequences, the later correction of which may be laborious and complex.
In addition, our young patients have their very own special demands: Their fears need to be taken seriously; their treatment requires an ambience suitable for children and different methods than those for adults. The greatest requirement, though, is a great deal of patience, understanding and empathy in order to gain the children's trust. Many adults suffer from a fear of dentists (dental phobia) for the rest of their lives, because they were traumatised as children by an unsympathetic and insensitive dentist. This must not happen!
For that reason, we are very happy that our team of experts is joined by an experienced dentist with an additional qualification in paediatric dentistry. When we built our new practice rooms it was our aim to realize a child-friendly ambiance with separate waiting and treatment rooms just for our little patients.
Our waiting room for children: Waiting can be fun
Our paedodontic treamtment room: Distraction is assured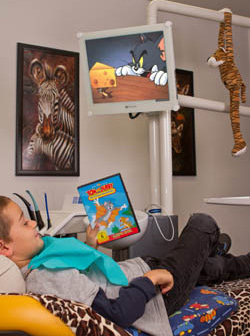 The complete chapter on paediatric dentistry is available for you to download, print or read in sections under "Paediatric dentistry in Lucerne" (PDF 2MB, may take some time to download).
If you are interested in specific topics or if you want to read the chapter in sections, please choose from the following links:
Chapter overview: Paediatric dentistry
Download the complete illustrated text on paediatric dentistry:
Paediatric dentistry in Lucerne (PDF 2 MB, may take some time to download)