X-rays: from single-tooth images to 3D volume tomography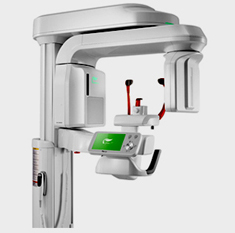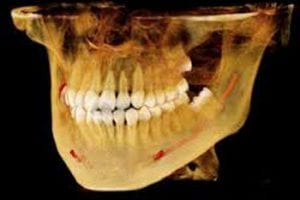 Digital X-ray technology: our dental surgery is completely digitalised. All patient data are entered into one of our PC workstations and stored on our central server. X-ray images are no exception. Digital X-ray offers many advantages over the conventional film-based procedure:
Radiation exposure of these procedures is up to 80% lower with excellent image quality
Immediate availability of the images that can be sent by email e.g.. to collegues or patients
Possibility of virtual treatment planning on the PC by digital image processing
Elimitation of ecologically harmful developer chemicals
We can take the following radiographs digitally in our office:
Intraoral X-rays:
In each treatment room there is an x-ray machine for intraoral (in-the-mouth) tooth films. These small pictures are valuable, for example, for the diagnosis of caries and periodontal disease, since they enable very detailed images. As a rule, the teeth should be radiographically examined every two years, depending on the caries risk and other individual factors.
Panoramic radiograph:
The orthopantomography (OPG) provides a panoramic overwiew of both jaws, the temporomandibular joints (TMJ) and the maxillary sinuses. Therefore, this radiograph is indispensable for the planning of major treatments, e.g. implant treatments or removal of wisdom teeth. With our digital multifunctional X-ray machine, we are able to take extremely detailed OPG images with a particularly low radiation exposure.
Teleradiography:
This lateral cranial image is important for our orthodontists in order to analyze the misalignment of teeth and jaws before an orthodontic treatment. Here too, the new technology allows a massive reduction in the radiation dose.
Digital volume tomography (DVT):
The DVD, also called cone beam computed tomography (CBCT) is a form of computed tomography (CT) that is particularly suitable for dentistry and maxillofacial surgery, it provides a precise three-dimensional imaging of the jaws and facial bones.
The advantages of 3D imaging by DVT:
In our office we often treat complex cases that require an accurate planning. This is the case e.g. when all teeth have to be extracted and replaced with implants. Also in the case of bone reconstructions or complicated surgical removal of wisdom teeth, sometimes even with difficult root canal treatments, it is important to obtain a precise three-dimensional "insight" in the jaw bones and adjacent structures (e.g., the maxillary sinuses). We require as well precise 3D images for computer-guided implantation, a minimally invasive technique for implant placement.
Our multi-function DVT device delivers millimeter-precise 3D images, which allow a particularly gentle surgical technique. In this way, the risk of serious complications, for example the injury of nerves and blood vessels, can also be reduced.