Treatment Under General Anaesthesia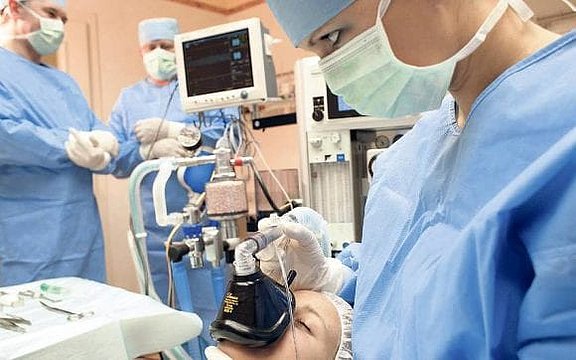 Although our methods for overcoming dental phobia are effective, there are still many patients who, for varying reasons, would rather not be aware of anything during treatment. This is where general anaesthesia comes into use.
A general anaesthetic invokes an artificial deep sleep, where all senses are deactivated. The anaesthetist controls the depth of anaesthesia and watches over the vital functions such as heart rate, breathing and blood pressure. This makes treatment under general anaesthetic today a safe alternative even for older patients and those suffering from illness. Thanks to the use of modern anaesthetic agents, the after-effects previously associated with this method, such as nausea and dizziness, are no longer a problem. Normally, the patient is allowed home around one hour after treatment.
When is treatment under general anaesthetic recommended?
For patients with extreme dental phobia
For children who reject treatment
What are the advantages and disadvantages of a general anaesthetic?
+ Treatment takes place while you sleep; the patient is unconscious of all happenings
+ sessions are needed. Extensive surgery is possible in just one session (for example extraction of all wisdom teeth or setting several implants in upper and lower jaw), whereas under local anaesthetic, two. This reduces time away from work
- Added costs for the anaesthetist
- The journey home is only possible in the company of a companion. It is forbidden to drive automobiles or operate heavy machinery for 12 hours after administration of the anaesthetic.
Anaesthesia in the dental office
A team of experienced anaesthetists work with us for all routine anaesthetic procedures conducted in our fully equipped operating room. These anaesthetists perform several hundred outpatient procedures every year and have technical equipment of the highest possible standard at their disposal. Further information available at www.narkose.ch.
Other ways to reduce the fear of the dentist. Would you like an overview of our other services?