---
Waiting room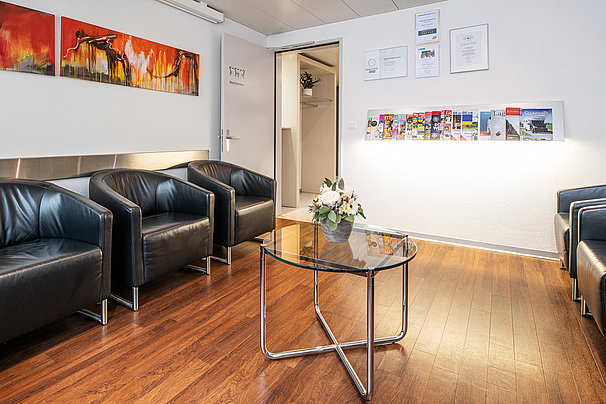 Our comfortable waiting room offers a diverse selection of newspapers and magazines, a PC at your disposal as well as access to our WLAN.
Consultation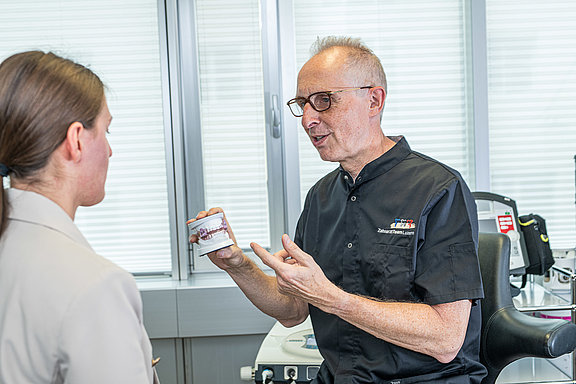 We place particular emphasis on comprehensive consultation and advice of our patients. We are happy to conduct the first consultation in our welcoming office facilities. Particularly for patients with a fear of dentists (dental phobia), a relaxed atmosphere is essential for the development of a trusting relationship.
---
Treatment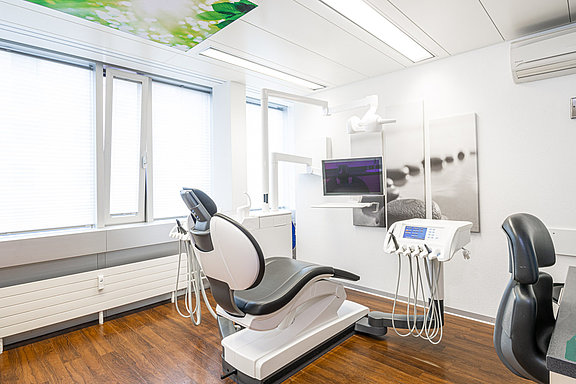 We have six state-of-the-art treatment rooms. Our treatment chairs are not only comfortable, but also provide a maximum level of hygiene and protection against infection, for example by automatic water disinfection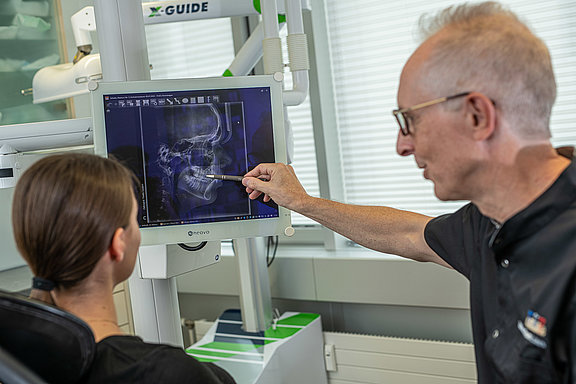 All treatment units are equipped with digital intraoral video cameras, allowing us to show you even those parts of the oral cavity which are difficult to access. This makes diagnosis easier and is an important tool in patient education. On these monitors, we can also show you informative images or videos on special treatment methods.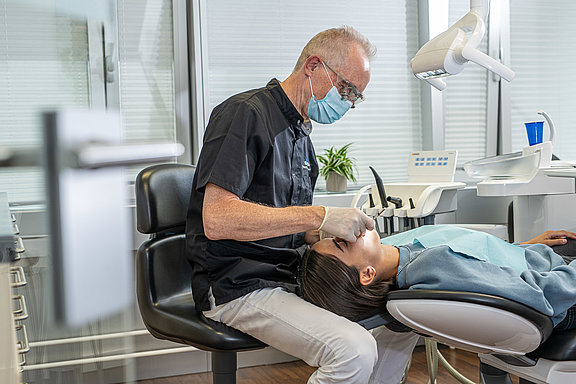 The treatment of anxious patients has been for many years one of our main focal points. Our tried and tested approach includes the use of laughing gas and twilight sedation.
---
Paediatric Dentistry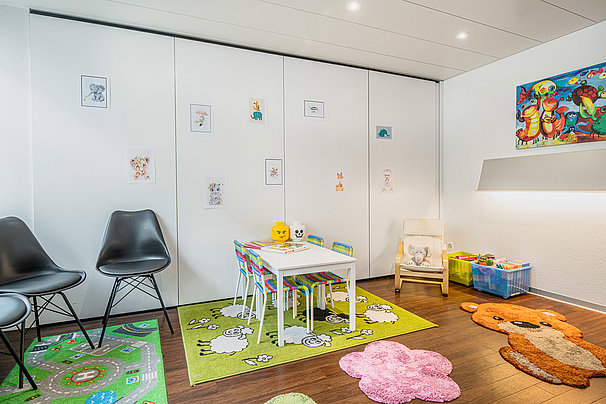 Children in our practice enjoy their own dedicated area. The children's waiting room provides distraction, toys and entertainment; the waiting time thus creates a positive mood and attitude to the subsequent treatment Our paediatric dentist receives her young patients in a child-friendly ambience. Colourful pictures and exciting cartoons provide welcome distraction during treatment. This makes the child more approachable, reduces fear and anxiety and creates lasting positive images and memories.
Anxious children can be treated without stress using laughing gas or sedatives. If necessary, treatment under general anaesthetic is also an option. Learn more about our paedodontic services.
---
Oral Surgery

For surgical procedures, we have our own operating theatre. State-of-the-art technical equipment allows us to perform surgical procedures as gently as possible under strictest observance of hygiene standards thanks to sterile environment for these procedures. For treatment under general anaesthetic or under twilight sedation, the theatre is equipped with powerful anaesthetic apparatus and ventilator as well as monitoring equipment/ ECG. In addition, a defibrillator is at hand so that we are also well equipped in an emergency. For general anaesthetics, we are ably supported by the experienced anaesthetic team from narkose.ch
---
The recovery room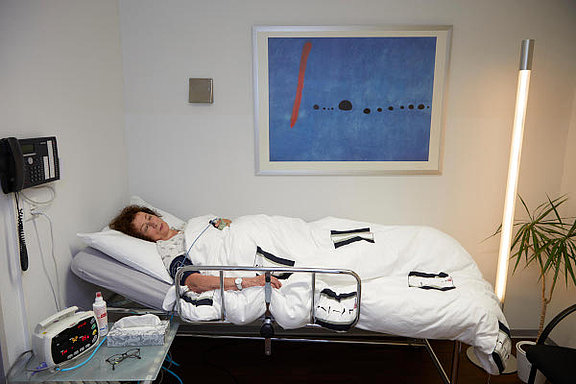 After surgery, our patients can rest comfortably in the supervised recovery room.
Prophylaxis – Dental hygiene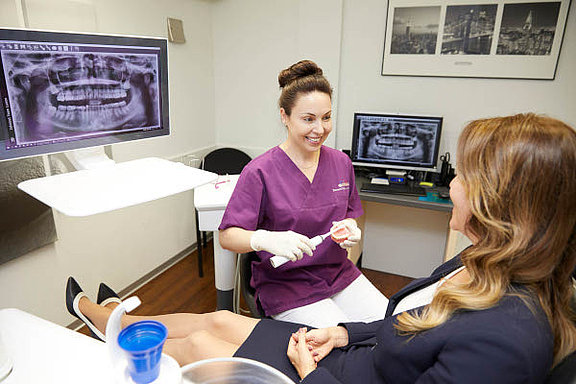 Prophylaxis and dental hygiene are key to lasting dental and oral health. Our prophylaxis team consists of experienced dental hygienists and prophylaxis assistants; they make sure that you receive the best possible care.
Sterilisation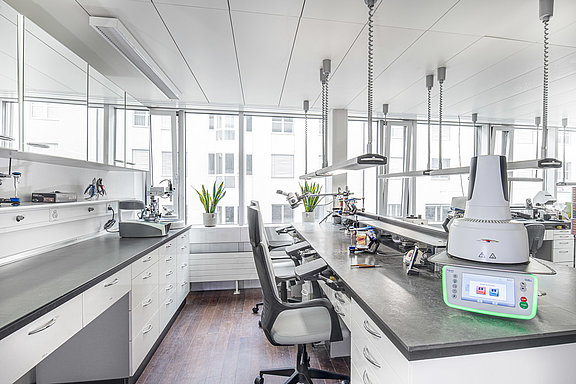 Important workplace in the background: the ″Steri″. Here, the dental instruments are cleaned and then sterilised. A complete, documented hygiene chain and sterilisers of the latest generation ensure reliable safety.
---
X-rays: from single-tooth images to 3D volume tomography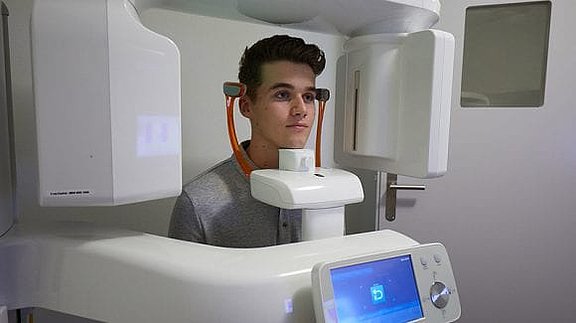 Digital X-ray technology: our dental surgery is completely digitalised. All patient data are entered into one of our PC workstations and stored on our central server. X-ray images are no exception. Digital X-ray offers many advantages over the conventional film-based procedure.
---
Our Dental Laboratory: Dentalia AG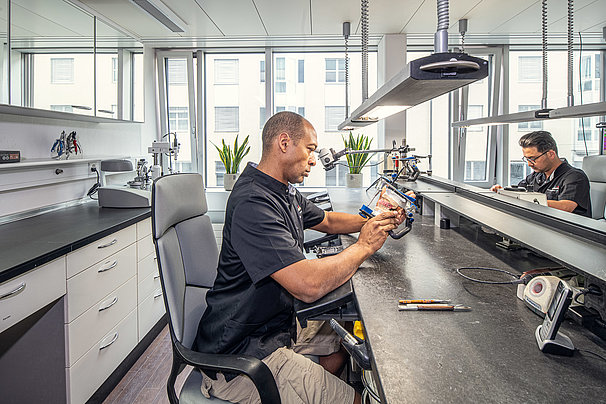 A look into our surgery's own dental laboratory. Our dental laboratory team from Dentalia AG deal with the customised manufacture of your restaurations. Our dental technicians combine highly skilled and accurate manual work with the use of state-of-the-art technology such as digital scanners and CAD/CAM milling equipment for zirconia ceramics.
The use of modern materials such as zirconia and pressed ceramics makes it possible to achieve a perfectly natural appearance combined with the highest quality and durability. Because our laboratory is an integral part of our surgery, we are able to offer a particularly personalised and speedy service for fitting your dental restauration.
---
Lectures
In our lecture room we regularly organize lectures (in German) on interesting topics. Please consult our section lectures for the current data.