Orthodontic Treatment for Adults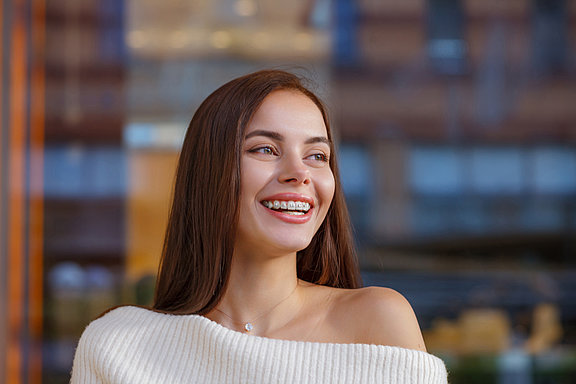 ---
---
Introduction
Teeth can be moved – a lifetime.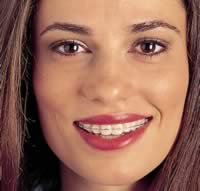 The mouth is not only used for taking in nutrition and breathing, it is also used for communication and other people automatically focus on it. It is therefore no surprise that beautiful, regular, healthy teeth are a kind of "calling card" for an attractive, well-groomed person.
While it is common to see children and young adults wearing dental braces, it is still relatively rare for adults to wear orthodontic appliances, even though there has been a high increase in the past few years. One reason for this was that in the past there was a lack of information about the options for adult treatment. With the modern techniques that are now available it is possible to correct malocclusions in adults of any age.
Generally, tooth correction in adults is carried out using fixed appliances, which have to be worn over a period of 6 – 24 months. Many people are deterred by the idea of having to wear this type of dental brace in the mouth for a long time. They overlook the fact that thanks to new techniques dental braces are now much more comfortable to wear than in the past. From an aesthetic point of view there have also been major advances: dental braces that are not visible or only partially visible – wishful thinking in the past – have now become a reality for all patients.
Multi-band appliances
The "classic" fixed dental brace comprises brackets, anchorage points bonded onto the teeth with adhesive, which are connected with special flexible wire arches. This proven technique moves teeth, even in adults, gently, effectively and precisely into the correct position.
Until a few years ago the unsightly appearance of these types of orthodontic appliances acted as a deterrent. Now brackets made from tooth-coloured porcelain or transparent plastic are available, which almost make the dental brace look like of a piece of dental jewellery.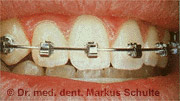 The new speed brackets are much smaller than the usual ones. Improved power transmission enables treatment times that are up to 50% shorter than with normal brackets.
Lingual Technique
The lingual technique really is a revolutionary innovation. With the lingual technique, brackets and arches are not bonded onto the outer surfaces of the teeth but onto the lingual surface, i.e. onto the inner surfaces, of the teeth and are therefore completely invisible. The "camouflaged" dental braces function just as effectively as conventional appliances.
The disadvantages of lingual dental braces up to now have been uncomfortable irritation of the tongue by the lingually fitted appliance and speech problems, especially in the first weeks of treatment. A completely new development provides a solution to these problems: Incognito brackets are customised CAD/CAM brackets, which lie flat on the surface of the teeth and protrude much less into the mouth than conventional lingual brackets.
As soon as three weeks after starting treatment the patient has generally become perfectly accustomed to the lingual dental brace and no longer experiences discomfort.
The lingual technique is very demanding technically and is mastered by only a few, highly specialised orthodontists. Operators must also acquire special certification for using Incognito brackets. We are pleased that we are able to provide these innovative treatment options in our practice.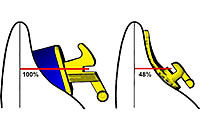 How does a treatment with the lingual brace work?
Our orthodontist will check whether the lingual technique is suitable for you and advises you about possible alternatives, such as: Invisalign.
If you choose a lingual brace, he will take a digital scan of your teeth and send them to Incognito Lingual Technique.
There, the teeth are virtually moved into the desired, perfect position and then this set-up is saved. Now the lingual brackets and the wires can be produced individually.
Your orthodontist will receive the brackets in a silicone transfer template adapted to your jaw. This allows him to glue all the brackets to the right place on the inside of your teeth at the same time. He then connects the preformed archwire to the brackets. The elastic force of the arches moves the teeth into the planned position.
Advantages and disadvantages of lingual treatment
+ Completely invisible from the outside
+ Fixed, therefore can not be lost or damaged
+ Very effective method, applicable to almost all dental malocclusions
+ Control interval only every 4-8 weeks, therefore also suitable for patients living far away
- Higher costs than other treatment methods
- Internal brackets temporarily cause irritation of the tongue and pronunciation problems in the first few days after the start of treatment.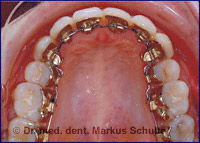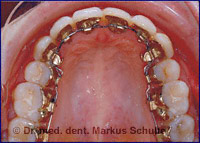 Incognito lingual brackets in the upper jaw before and after treatment
Cost of Orthodontic Treatment
Average cost range of common treatments
The cost of orthodontic treatment depends of course on the difficulty of the case as well as on the type and length of treatment. In our clinic, the first orthodontic consultation is free. We only charge the X-rays or plaster models that may be necessary.
We provide a detailed written estimate before each treatment. Treatment costs are distributed over the whole treatment period and are invoiced every quarter. Usually we offer a fixed price that is kept even if the treatment is longer than scheduled.
Average cost range of common treatments
| | |
| --- | --- |
| Treatment with Invisalign or fixed braces | SFR 4'000 – 12'000 |
| Treatment with lingual braces | SFR 7'000. – 15'000 |
| Orthopulse treatment accelerator | SFR 1'100 |
Do you want to convert the CHF prices (Swiss francs) to euros? Use the online currency converter.
Tariff / Tax points in our practice
In our practice, orthodontic services, i. Treatments with braces, uniformly billed to all patients with the Dentotar tax point value of 1.00 Fr. (social rate). Irrespective of whether it is a private patient or a compulsory benefit in accordance with the KVG or disability insurance. More information about our billing.
Insurance
Statutory insurance companies usually do not take braces treatments. Only in particularly severe cases (birth defects), which have to fulfill certain, precisely defined criteria, does the disability insurance (IV) reimburse the treatment costs up to the age of 20 years.
Most health insurers offer supplementary health insurance (dental insurance), which covers part of the cost of dental corrections in children. Such policies should be completed in toddlerhood when the need for braces treatment is not foreseeable. For older children, insurances usually require an appraisal and can exclude braces from the policy in the event of misalignments.